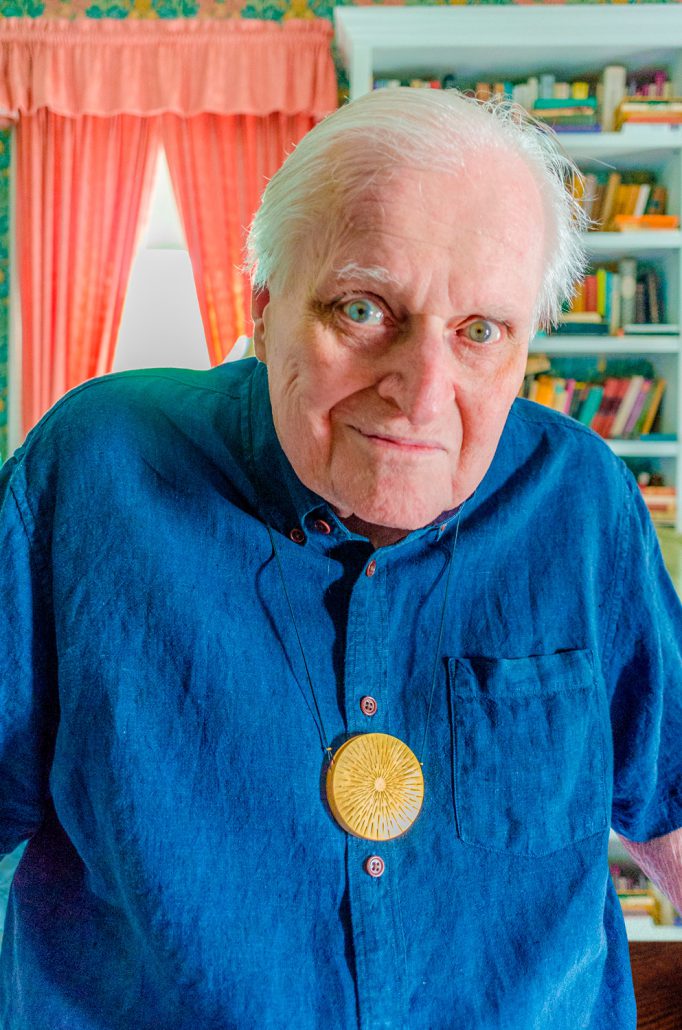 John Ashbery with the Raymond Roussel Society Medal.
Hudson, New York. June 2017.
Photo © Joan Bofill
John Ashbery, the  innovator of the 20th century poetry,
has passed away.
John Ashbery, who has passed away at 90 years old, has been considered the most innovative and influential American poet of his generation.
His works created controversy among critics even after receiving prestigious awards such the Pulitzer in 1976 for his work Self portrait in a convex mirror. He is the lyric poetry best seller author of the United States. In 2012, President Obama awarded him with the National Humanities Medal.
During the 50s, after receiving a Fulbright scholarship, he settled in Paris. His friend, the poet Kenneth Koch, introduced him in the work of the innovative French genius Raymond Roussel. He was captivated by him so much, that Ashbery learned French in order to be able to read Roussel. The life and work of Raymond Roussel had a large influence in Ashbery's poetry. Due to this deep admiration, at the beginning of 2016, he was a founding member of the The Raymond Roussel Society.
In june 2017, he was awarded by The Raymond Roussel Society the first honorific medal "in recognition of his extraordinary contribution: rediscovering and spreading awarness of Raymond Roussel in the Unites States of America".
As a President of The Raymond Roussel Society Committee, I was designated to communicate the award to him. When I contacted him, he was deeply honored and excited. However, due to his delicate health condition, he told me that he could not be able to assist to the ceremony award. In view of the circumstances, I personally presented him the award in his residence in Hudson. The award was a unique medal which contained a cookie with the shape of a star. The clear reference to Roussel captivated Ashbery. He was happy and affectionate. At the next day, the handing was made official at the Instituto Cervantes of New York. Within the 2 and a half months, he has passed away.
I hope he had access to the Olympus of his most admired poets and artists  such as Guillaume Apollinaire, Joseph Cornell, Jean Hélion, Jackson Pollock, Raymond Roussel
Joan Bofill-Amargós
Founder and President of The Raymond Roussel Society.